I've been watching a whole bunch of PeakProsperity and MedCram (excellent and respectable teaching doctor) to digest the medical info coming out about Covid-19 studies, etc (as I've been caught up blogging about it for ~6 weeks, etc).
In previous weeks they've each described quite similar supplement regiments, for supporting their own (healthy) immunity, that wouldn't be at all out of place in our community (although relatively small, heh):
•
Dr Chris Martenson (Peak Prosperity)
- Zinc, Quercetin, D3, then if sick Elderberry, NAC (for covid 19) and vit-c to bowel tolerance (as Dr Myhill advises too).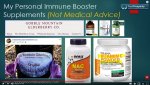 •
Roger Seheult, MD (Med Cram)
- Vit-c (whole food), D3 (2500IU/day), quercetin (500mg x2), zinc (50mg), contrast shower (max hot/cold for immune stimulation), + obsessively intense anti-contamination hygiene routines (he describes at length and I wouldn't worry about) as he works with critically ill Covid patients.
Anyway,
MedCram videos
have dealt with seemingly all aspects of Covid-19 in a very approachable but technical manner. And perhaps most other aspects of medicine, previously, including
treating septic shock with vitamin C
...
... And today gave a fantastic overview of
mitochondria's ATP production
as a line up to talking about
oxidative stress
for his theory of what's the primary mechanism behind Covid-19; Sars-Cov-2 attacking the endothelium of the circulatory system with associated massive oxidative stress not controlled because ACE2 is also knocked out by the virus:
I found it helpful just for generally helping me get to grips with what "reduced" means (can never internalise it) as well as where the SOD (and other anti-oxidant) enzymes (glutathione and catalase) fit in
:
Last edited: