I'm due to start Acyclovir and from researching it seems most antivirals cause some degree of Mitochondrial Toxicity. Is there a way to avoid or negate these toxicity side effects?
From this table there's a host of effects from Acyclovir: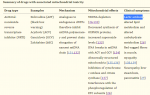 Source:
https://www.ncbi.nlm.nih.gov/pmc/articles/PMC6925523/
I'm already taking 100mg of CoQ10, 1mg D-Ribose and ENADA. Is there anything else that would help?