Couldn't find any information on this, so I will tell why I'm optimistic that this is the cause of my CFS, and hopefully someone can relate or give helpful resource to study this further...
My background
:
I developed chronic maxillary sinusitis after sleeping under air conditioner in a hotel when I was 7, had lots of green mucus until I was around 8-9, then it drifted away a bit, but still had some white mucus coming out every 20 mins in active hours, and around 16 y/o (2016) it got more frequent, I think. At the same time my CFS started to manifest with neurological problems like concentration fatigue, heightened anxiety, and similar things. Starting January 2017 I started feeling general fatigue and tiredness unrelieved by sleep, my activity level would be 5-6 from there on forward. In 2018 I discovered subfebrility (temperature elevated to 37.4°C during day), mild tachycardia and frequent urination (last two I think has to do with sympathetic nervous system dysfunction). These remain to this day.
I'm from Ukraine, and there is no restriction on seeing Drs, so you can see as many as you want, I did some examination and lots of tests, one Dr found
selective deficit of NKT-cells(CD3 +, CD56 +), chronically reactivated HHV7 + TTV infection and streptococcus infection with PANDAS
(that's group A streptococcus).
I think that Dr used this Antihyaluronidase test to diagnose PANDAS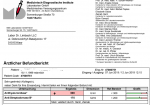 )
He wants to use ceftriaxone 1milion intravenously 10-14 days, then cefuroxime 500mg x2 daily 16-20 days to threat Streptococcus. I will discuss this with other docs.
Ok, so
why do I think Sinusitis is the cause of my CFS?
I have treated my sinusitis with protocol below, and just after 3 days of starting I noticed big improvement in energy, unfortunately in only lasted 7 days, and it didn't improve my sympathetic nervous system function (I'm reading the Perrin technique book, and it says there that sympathetic nervous system is compromised by immune system deficit long before CFS develops, witch I think applies to me because infection that caused sinusitis probably stressed immune system all these years.
Can Streptococcus group A do this?
)
Take the onion juice, dark soap (household) - grind, add oil, alcohol, milk, honey. Put everything in one container. Make a "water bath" and wait for the soap to melt. When the mixture has cooled, it can be applied. Take a cotton swab and dip it into the ointment. Then three times a day, insert into each nostril for 15 minutes. This procedure should be done for three weeks
Very curious to hear your opinion
Last edited: