It seems to me that as far as under-over methylation or the SAMe/SAH ratio is concerned, niacin and niacinamide are opposites, at least in larger doses. In a low dose of about 50 mg, most of the niacin gets changed to niacinamide before being excreted.
GNMT, glycine N methyltransferase, keeps the SAMe level from getting too high.
GNMT-deficient individuals have elevated serum methionine and SAMe.
According to Dr. Walsh
, undermethylated people have a low SAMe/SAH ratio, where the enzymes that use SAMe are inhibited due to higher SAH (the product of all enzymes using SAMe.) The opposite it true of overmethylated people.
A dose of regular
niacin
will mainly be metabolized by combining (conjugating) with glycine, using up glycine. Niacinamide is metabolized by NNMT, which uses SAMe as a methyl donor, and uses up SAMe.
Here is a little graphic I made to illustrate: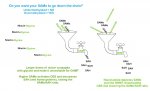 Dr. Walsh says that niacin and niacinamide act as dopamine reuptake promoters, but I can't find any support for this idea. Does anyone have any information about this? I realize that niacin and niacinamide have various effects in the body and it is hard to assess what the outcome would be.
He also only espouses niacin or niacinamide for overmethylation, as if they had the exact same effect. I don't know if this is because he has tried using niacin for undermethylated people and it hasn't helped, or what.
Anyone have any thoughts about this?
By the way, from our experience, if a person has enough folate, they will produce sufficient glycine through SHMT to negate the effects of niacin. We are having to cut out high folate foods.