@Hip, do you have more info about that? Sounds interesting.
I don't know how autoimmunity actually causes pannus (autoimmune ligament swelling), but Dr Bolognese in
this 2014 video
at 11:33 explains how this swelling can lead to brainstem compression CCI.
He says that if the dens bone is already a bit tilted towards the brainstem, and then on top of that, you also get swelling of the ligament next to the dens, then you have a double-wammy effect, which can lead to brainstem compression.
It is the Grabb-Oakes line that measures this double-wammy effect: Grabb-Oakes measures the combined effect of the dens titling towards the brainstem, plus any swelling of the ligament adjacent to the dens (there is a ligament between the dens and the brainstem).
The Grabb-Oakes line is the yellow one in the image below: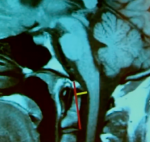 Last edited: