@Judee
, I am here, in Spain. I travelled by bus for 2,5 hours to the airport hotel and that was already challenging. I really needed that resting time at the hotel. My flight was next day 7:45 am. I felt quite OK in the morning but as soon as we started to climb up through the clouds, I started to notice I don't feel well. As many of us know being surrounded by unknown people feels unpleasent. But there is something extra bad in being in an aeroplane that flies. I used to like flying. I even had my flying licence when I was younger. But now, not so much. I think sitting for 4,5 hours was causing symtoms too. Before I left Finland, I could sit for a couple of hours before I started to feel nausiated and dizzy. The plane landed 11:30 pm local time.
I had my neighbours helping me at Malaga airport. As soon as we had travelled to my new home, and unpacked, I started to feel better. We drank a couple of beers at the balcony in sunshine. The sun stopped shining there, so we headed to the beach where sun shined. We walked there for maybe 15 minutes and went to a restaurant, ate and had two beers. My wife's dog was with us all the time. People had wrote in the internet that you can't take your dog into restaurants but there were plenty of restaurants that allowed pets in to their terrace.
To my surprise I felt quite OK for the rest of the day. Neighbours left around five pm.
The next day was synny. To my surprise I could walk with the dog on a synny beach boulevard for an hour, stopped to sit on benches ever now and then. Then we sat on my balcony in sunshine for another hour and yet one more hour in the plaza. I did't feel nausiated.
Today it rains. It is going to be cloudy for a few days but then again partly cloudy.
It seems that the sunshine does the trick quite fast. But I bet it doesn't last longer due to the fact that it is so long from the last time I had been in sunshine. You see, in Spring even, it takes a couple of weeks in sunshine to feel better on days without sunshine. Enclosed the only photo I happened to take from the day I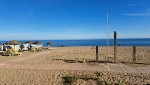 arrived. Another one is from yesterday from my narrow balcony.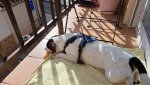 Last edited: