Messages

220
Likes

560
Location
Four ME patients in Varkala SM Ayurveda in Kerala, India.
From left to right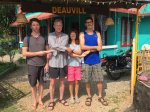 EchoBravo (4 years ME now in remission)
62milestogojoe (7 years ME now in remission)
McTavish (10 years ME on fourth day of detox)
TheProf (6 years ME on third day of detox)
We are at different stages of recovery. I related my beginning treatment in 2016 on another thread.
We have access to Oura for measuring sleep and I will post the exciting results later. Just as an example I had 100 minutes of N3 refreshing sleep on remission and McTavish, who has not begun treatment proper yet and is taking pharmaceutical grade sleeping tablets had 17 minutes of N3 last night.
With a cohort of 4 we can finally consider the success of this treatment with a little more robustness. Will keep you posted. I am intrigued and fascinated by the possibility of return to health for McTavish and TheProf
Last edited: