Responding to a reply on a different thread:
https://forums.phoenixrising.me/thr...ccr5-antagonist-maraviroc.85084/#post-2397360
In summary: looking for ccr5 antagonists - original thread mentions a different herbal. But then I found out the below information which might be useful.
Andrographolide is a ccr5 antagonist too and works on rna viruses. Difference is it has been shown to work against SARS-COV-2 - whereas
Sanguisorba officinalis
doesn't seem to have that effect. Whether this makes any difference at all though isn't clear.
https://www.ncbi.nlm.nih.gov/pmc/articles/PMC8619093/
Cell level explanation influenza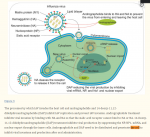 cell level explanation HIV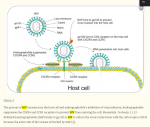 It also hits ebv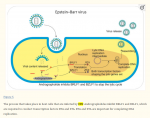 So my anecdotal experience is that even if you take covid out of the equation I experienced amelioration of fatigue (which took maybe 3-6 months of andrographis whole leaf dosing) and later on quasi remission by taking just andrographis and nothing else. I used to take 2g 3x a day. The only reason I stopped is because my canker sores got worse taking it, because andro dries the body out. But now if suspect if I combined Famvir and Andrographis whole leaf, I'd get the benefits of stopping the cankers (Anecdotal but I found that famvir stops my canker sores, either by stopping my mouth drying out or stopping it via another means) and all the above benefits.
So just a theory but I wonder if Famvir and Androgpraphis (assuming it isn't too much for the kidneys - andrographis can be quite kidney heavy) - could be a potent combination. Cost would be £250 UK to do this I reckon with low dose famvir and standard dose andrographis whole leaf.
https://www.researchgate.net/public...valuation_in_major_organ_cell_representatives
SARS-CoV-2 at 25TCID 50 was able to reach the maximal infectivity of 95% in Calu-3 cells. Post-infection treatment of A. paniculata and andrographolide in SARS-CoV–2 infected Calu-3 cells significantly inhibited the production of infectious virions with the IC 50 of 0.036 μg/mL and 0.034 μM, respectively, as determined by plaque assay. The cytotoxicity profile developed over the cell line representatives of major organs, including liver (HepG2 and imHC), kidney (HK-2), intestine (Caco-2), lung (Calu-3) and brain (SH-SY5Y), showed the CC 50 of >100 μg/mL for A. paniculata extract and 13.2-81.5 μM for andrographolide, respectively, corresponding to the selectivity index over 380. In conclusion, this study provided experimental evidence in favor of A. paniculata and andrographolide for further development as a monotherapy or in combination with other effective drugs against SARS-CoV–2 infection.
So just to summarise this is a possible alternative to maraviroc. Why Famvir? Well if ME patients did have high herpes viruses they'd need to treat them long term, or for at least a few years at low doses potentially - if they got long covid they'd need a ccr5 antagonist for a certain duration x - unknown. So the combination might stop the patients ME getting worse while still dealing with covid latency.
Last edited: