Look at the support for Prostate Cancer! Heads-up Canadians (and others!) - we need to leverage this high-level and very visible Canadian government support, so treatment for XMRV-related prostated cancer spins off to treatment for XMRV-related ME/CFS.
This is a wonderful win/win. We can help each other! (And it's not restricted to Canada).
MPs find the ties that bind: cravat common front for Layton's cancer battle
Wed Mar 31, 7:09 PM
By The Canadian Press
OTTAWA - The barbs and low theatre that make up the (Canadian) House of Commons daily question period didn't disappear Wednesday. But for a few moments they were put aside for some kind words across the aisle and a rare sign of sartorial unity.

Virtually every member of Parliament from every party wore a teal-and-blue-striped tie or scarf in support of NDP Leader Jack Layton's fight against prostate cancer.

The Toronto MP is in the middle of a treatment regimen that has seen him lose some weight and occasionally look wan.


​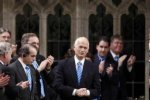 Layton, 59, has rarely missed a session of the Commons since Parliament reconvened March 4 and has vowed to stay on the job until his health is fully restored. The Tory hue of the ties and scarves of Prostate Cancer Canada prompted additional congratulations from Conservatives on the choice of colour.

"We are delighted to join in solidarity with the leader of the NDP on the issue of prostate cancer," Prime Minister Stephen Harper told the House.

"We are delighted to see him looking so good and so healthy in this House of Commons, and looking ever better in that blue tie." The Conservatives even eschewed their usual partisan jab at Liberal Leader Michael Ignatieff in the final member statement before question period to pay tribute to Layton's medical battle. "His public gesture of courage showed Canadian men and their families that they are not alone in their daily fight to combat this illness, but more needs to be done," said Conservative MP Jim Abbott. "Government members are proud to wear the ties and scarves that are a symbol of Prostate Cancer Canada, to show their support for the member for Toronto-Danforth and all Canadians who have had or are battling this disease."

Layton was grateful and hoped the unified front might be pushed beyond fashion and into the realm of policy. "A big thanks to all my colleagues here for the consensus on the ties and scarves. And a big thanks to Prostate Cancer Canada and all the medical staff and volunteers who work on this issue," he told the House. "Who knows, maybe we can create some consensus on a few other things here."
​
My next project as soon as I'm up to it (and once BMJ is disposed of
): writing a position paper on why Prostate Cancer and ME/CFS groups should be working together internationally to accelerate access to XMRV diagnostics/therapeutics and clinical trials. More group connections to follow.
XMRV Global Action, here we come! :Retro smile:
ACTION ITEM:
Anyone want to craft a letter to Jack Layton & Stephen Harper re: XMRV, high Gleason-grade prostate cancer, and the urgent need for XMRV research funding (Canadian Institute of Health Research? CIHR) and clinical trials for prostate ca and ME/CFS in Canada?
Let's strike while the iron is hot! I'd be happy to participate.