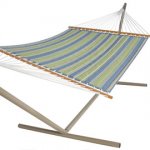 ​
On Saturday, the weather was nice and I wanted to spend time on my deck. But all I had out there were some wrought iron patio chairs. Not comfy. I looked in envy at my downstairs neighbors' hammock and decided then and there that I had to have one. With the wonders of the internet, I found a deal on a quilted hammock with stand, free shipping plus a 10% off coupon that I found on one of those deal websites - total = $180
Then I woke up on Sunday and thought: WTF have I done? 180 bucks on a hammock? And will it fit? I checked the item description and, uh-oh, the stand is
15 feet long!! A quick measurement outside calmed my fears. The space I have for it is 15 feet, 3 inches long. Just made it. Whew.
In rapid fashion, my hammock arrived today in two large boxes that I wrestled up to my second floor apartment. Assembly was a matter of clicking a few poles into place and in no time, I was laying in the sun, head and feet slightly elevated, with gentle breezes (and tree bud debris) blowing upon me. Heaven.
I haven't been able to play guitar much since I got sick. The cognitive issues, the muscle tension, the discomfort of sitting up - who knows what else has made it so challenging, but alas, I had all but given up. But what if I played laying down? In the hammock? It worked!!! The hammock supported the body of the guitar so that I didn't have to hold it up. I am definitely rusty, but I was able to play - blood flowing to my brain, my body relaxed and reclined. Yay!!! :victory:
I have decided that I am not going to work for the entire month of May, taking off on "sabbatical" to practice Hammock Therapy. It's been getting increasingly difficult to work and rather than try another protocol, or some other 'doing' treatment, I am going to stop, rest, and (hopefully) recover.