AOR has a fancy new website(

http://www.axiomahealth.ca/

) promoting their "breakthrough" Nitrous Oxide supplement.
Arginine NOx supplements have been on the market for ages and have largely proven to be ineffective at increasing NO levels. AOR has something completely different to offer.
What's interesting is the methodology AOR is using to increase NO.
"There are two ways that NO is produced in our body.
1. Arginine Pathway: NO can be produced from the amino acid L-Arginine by enzymes called nitric oxide synthases.
The problem is that high doses of L-Arginine and plenty of oxygen and energy is needed otherwise this conversion becomes inefficient. This is especially true during exercise, when oxygen is limited. Until recently this was the only identified mechanism to produce NO in the human body.
2. NOx 3,2,1 Pathway: NO can be made from components found in certain vegetables called nitrates that get converted quickly into NO in the stomach. This action is much faster and does not require enzymes. Also, only small quantities of nitrates are required and most importantly, this process takes place very effectively under high oxygen conditions but also when low oxygen levels are present. This offers an additional source of NO and can complement or supersede the L-Arginine pathway." (
http://www.axiomahealth.ca/#!the-power-of-nitric-oxide
)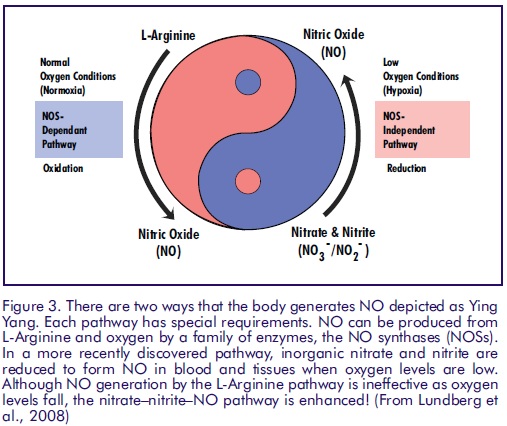 *Note: All pictures from http://www.axiomahealth.ca/magazine#!__magazine
What I find interesting about this supplement is the potential it may have to help those with compromised NOS Pathways. Which incidentally affects about 45% of people with CFS according to a
Yasko genetic study
.
"NOS (Nitric Oxide Synthase) – helps in the formation of nitric oxide which has a role in oxidative stress and chemical production. If NOS mutation is present it can affect the urea cycle with respects to ammonia detoxification (hand-flapping, over-stimulatory behavior).
• NOS D298E (-/-) = no mutation.
• NOS D298E (+/-) = heterozygous mutation. Partial defect in system.
• NOS D298E (+/+) = homozygous mutation. Both genes affected. Major issue with NOS effects. Primarily related to ammonia detoxification issues in association with CBS mutation." (

http://www.vsan.org/rok-az/methylation/Genetic_Analysis_Report_summary_sheet_1.pdf

)
This also has implications for the production of peroyxnitrite.
"NOS is also involved in ammonia detoxification, a job that distracts it from its Nitric Oxide generating duties and which uses up BH4. Without adequate levels of BH4 Nitric Oxide Synthase will not convert Arginine in to beneficial Nitric Oxide, but rather in to undesirable free radical species such as superoxide or peroxynitrite." (
http://www.heartfixer.com/AMRI-Nutrigenomics.htm#NOS: Nitric Oxide Synthase
)
For an extensive write up on the NO/ONOO – cycle check out Martin L. Pall's website. (
http://www.thetenthparadigm.org/index.html
)
My only concern is, might taking nitrate supplements/food increase peroxynitrite? Or would it have the opposite effect by taking a load of BH4 giving the NOS pathway a break? What do you guys think?
AOR is rather hush-hush about what
exactly
is in their product calling it a "proprietary blend". However the relationship to diet's high in natural organic nitrates is very fascinating.