Messages

23
Likes

72
Location
Hi there,
Not too long ago I posted on the Introductory Members area discussing my plans to further my investigation on what may be causing a host of symptoms (pain, joints, inflammation and fatigue) over a period of ten years.
It only kicked in recently that it was time to bite the bullet, look heavily into ME/CFS information online, and push to try to find some answers in this field. I've been suffering with symptoms of an unknown etiology for too long and decided to put a few things in place going forward. I currently live in France and am being followed by an immunologist.
Owing to the discussion on these boards and the CFS roadmap, I have been trying to look into both neuro-chemical and metabolic issues, as well as more recently, neuro-mechanical CCI/AAI symptoms. I booked for an Upright MRI scan at the Medserena London Clinic a few days ago and received my results.
After Dr Gilete's Centre in Barcelona recommended that I get the scan, I took up the appointment. Jeff, who posts on here, mentioned this doctor as being a neuro-surgeon specialist so when his secretary advised I consider the Upright MRI, I moved forward.
I wanted to attach the conclusive part (two sentences) at the end of the report by Prof. Francis W Smith (inventor of the MRI it seems) who visits the Medserena Clinic and looks at patients' scan. He then forwards his report to a neuro-surgeon.
I am not exactly sure how AAI ties back to ME/CFS, but it seems that my scans do point in the direction that I have it. I may update this thread with further information from the doctor in Barcelona after he himself writes back and sees my report.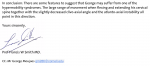 Last edited: