Messages

3,777
Likes

14,737
Location
Part 2 of the blog about Dr Ian Lipkin's Collaborative, now up at ME/CFS Research Review
The heart of ME/CFS? Lipkin's Collaborative probes the impact of exertion
The hallmark symptom of ME/CFS is post-exertional malaise (PEM), a prolonged, grim and disproportionate response to exertion. While Dr W. Ian Lipkin's NIH-funded Collaborative - the Center for Solutions for ME/CFS – is focusing primarily is on how
problems in patients' gut microbiomes might drive the disease
, his team is also probing deeply what happens when patients exert themselves. Lipkin says that the exertion studies are so important that the Collaborative will devote a third of its research resources to it.
When I spoke to Lipkin about the Collaborative's work, he also said he was very hopeful that there would be real progress for patients within five years. More on this later in the blog.
Exertion studies
The Collaborative has a simple idea for exploring PEM: use two different exertion tests that should provoke symptoms in patients and then see what happens, both to how patients feel and to their biology.
If biological changes, such as those to cytokines, ramp up along with symptoms then it's more likely that the biological changes are directly related to the illness and should give clues as to their role. Any insights into the nature of PEM could lead to a much better understanding of ME/CFS.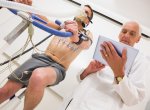 ....
The crystal ball
I asked Lipkin how he thought things might look at the end of the five-year NIH funding for the Collaborative's research program.
He was bullish about the prospects for significant progress. He made a comparison with the situation with cancer treatment 20 years ago.
He believes that in ME/CFS, as with cancer, a group of similar-looking patients will prove to have different causes or triggers for their illness but will share a final common pathway: "ME/CFS". As with cancer, he expects they will find the specific cause of ME/CFS for some groups of patients quite quickly – the low-hanging fruit.
...
read the full blog