(This video may not work here in the forums but if you click "watch on youtube" it should work)
It included some data on sleep in severely ill patients I had not seen before, and a slide showing how ctokine levels track with severity. (of course I wonder if the correlation would be even stronger in a provocation study)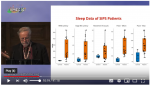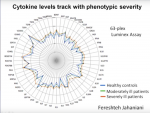 THis next one is interesting. He says the gene that makes indoleproprionate is not a human gene, it's a microbiome gene. The problem is a missing gut bug.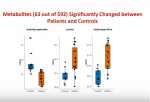 He says taking this as a drug might help, once it is available (still under testing).
At the 17 minutes mark he talks about Copaxone, which he says makes MECFS patient blood "look healthy" (presumably in terms of impedance)
He also talks about the IDO hypothesis. They now think it must be present in just 1% of cells and they can't get a good signal, they hypothesise that is because of the media they are testing the cells in, which they think might be polluting the signal. In summary the theory is very attractive but there is not good evidence for it yet.
Last edited: