Figured I'd share it here as it's immoral not to share something that may permanently put this into remission.
While Zidovudine (AZT) will not cure a person's MS, it might put it into remission.
While there may be more species of herpes viruses responsible for the pathogenesis of MS, Epstein Barr virus infection seems to be critical for the disease to manifest.
Another clue that the virus is critical is that studies have shown that consuming AZT may cause MS to go into remission, and
AZT ONLY WORKS ON GAMMA HERPES VIRUSES (EBV KSHV)
Most people with MS do not have KSHV.
https://www.sciencedirect.com/science/article/pii/S2211034818300828
I don't have MS and I consumed Duovir, the equivalent of Combivir (Zidovudine/Lamivudine). While not as pleasant as Acyclovir, it's very tolerable at today's recommended dosage.
Below are Duovir which I got off of alldaychemist, the reduction in disease and brain lesions from the science direct article.
Last comment. AZT was the first drug FDA approved for treatment of HIV. Side effects are much milder or don't happen at all anymore as it was learned that though AZT had a shorter half life in plasma, the intracellular half life was much longer.
The other thing is a DNA virus like EBV does not mutate like HIV, so it will probably work the life of the person taking it.
Usually if you get Zidovudine you're going to get it packaged with Lamivudine, side effects low for Lamivudine so usually not a problem.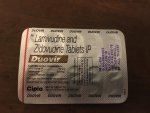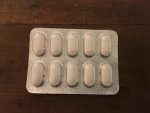 Last edited by a moderator: