Messages

353
Likes

256
Location
Cyclic adenosine monophosphate (cAMP) is a second messenger important in many biological processes. Increases in intracellular cAMP generally suppress innate immune functions, including inflammatory mediator generation and the phagocytosis and killing of microbes.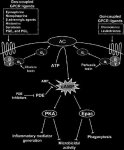 http://ajrcmb.atsjournals.org/cgi/reprint/39/2/127
Intracellular Cyclic AMP is stimulated by:
-Norepinephrine (beta 2-adrenergic receptor)
-Epinephrine (beta 2-adrenergic receptor)
-Prostaglandin E2
-Prostaglandin D2
-Prostacyclin
-Histamine
-Glucagon
-Parathyroid hormone
-Vasoactive intestinal peptide
-Vasopressin
In ME/CFS the increased sympathetic activation (probably due to low plasma volume/cardiac output) is cranking up cAMP and suppressing our innate immune system.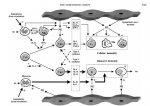 http://pharmrev.aspetjournals.org/content/52/4/595.full.pdf+html
Prostaglandins (inflammation) and Histamine (inflammation, food intolerances) are probably also major players in ME/CVS.
Possible treatments:
Lowering epinephrine/norepinephrine (treat low blood volume, slow-deep breathing, beta blocker)
Lowering Prostaglandins (Non-Steroidal Anti-Inflammatory Drugs)
HIV protocol and cAMP
http://www.lifeextensionvitamins.com/hivnahivpr.html