i wonder how much impaired we are if we are in good and bad phase.
there is this website
https://humanbenchmark.com/
which conduct all kinds of tests like number and verbal memory and reaction tests.
one must say that some tests like reaction are dependent on the hardware device which is being used. a external mouse might be faster than a touchpad. hitting a key even faster, but thats not supported for this website.
i also believe that many people are cheating and therefore distorting the averages.
i hardly believe that normal people can remember more than 8..9 figures, i am in the lower 35 percentile, that is bad.. means 65% are better than me.
the sequence memory test is almost the same as the number memory test, people are much worse than in number memory test, probably because they can hardly cheat on that one.
also i have really struggled to remember numbers bigger than 6+ figures. that i got 8 and 9 was pure luck. that really sucks but speaks for the mild cognitive impairment this sickness can cause.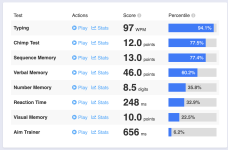 though i really hit the ball out of the park on typing. guess long year coder bonus...
Last edited: