Messages

1,942
Likes

5,367
Location
Dr Robert Naviaux has suggested a three phased model for reversing the cell danger response (CDR), and recovering ME/CFS patients from a dauer hypometabolic state. I haven't seen it discussed on a dedicated thread, and I thought it was worth delving into.

Note: This is based on Dr Naviaux's 5/25/17 call with the CDC, his 2016 Hypometabolic study, and his theoretical model for future treatment. He is not a practicing clinician, and it's not an approach he's currently recommending.
--------------
The Naviaux Protocol
Remove the trigger. This would presumably mean treating any underlying pathogen (antivirals, antibiotics), treating autoimmunity or autoinflammation (immunosuppressants), unbinding toxins (metals, mold), or avoiding certain environments (mold, chemicals, etc).


Refill the metabolic tank. Naviaux specifically implicates NAD+, NADPH, Glycerol, and Citrulline as key metabolites that rise when nematodes (C. elegans) exit hypo-metabolism (See slide below). On the CDC call he also mentioned that there are hundreds of others that his research data is identifying.


Flip the switch. Naviaux mentioned that he's raising funds for a low dose trail of a drug called suramin in ME/CFS patients (antipuringeric therapy). Suramin is an IV pharmaceutical used in African sleeping sickness that was shown by Naviaux to reverse autism in mice (1a) and more recently in human children (1b).

I've seen no mention anywhere online of any ME/CFS patient ever trying suramin. Note that it has quite a nasty side effect profile, which is presumably why Naviaux plans to test in low doses.

Interestingly suramin has also been looked at for treating RNA viruses (2) and cancer (3).
--------------
In practice this protocol might look something like:
Rituximab / Rega Compound 17 (4)


Various supplements


Suramin
--------------
More on suramin from Naviaux's autism study:
Suramin is an APT mediator that triggers the mechanism linked to mitochondria, influences immunity, and has the ability to
stabilize
locomotor function and coordination, social behavior, normalize brain synapse structure, cell-to-cell signaling, and recover mitochondrial metabolism in mice with autistic-like behaviors and genetics.
And from Wikipedia:
Suramin
is also used as a research
reagent
to inhibit the activation of heterotrimeric G proteins in a variety of
GPCRs
with varying potency. It prevents the association of heteromeric G proteins and therefore the receptors guanine exchange functionality (GEF). With this blockade the GDP will not release from the Gα subunit so it can not be replaced by a GTP and become activated. This has the effect of blocking downstream G protein mediated signaling of various GPCR proteins including
rhodopsin
, the
A1 adenosine receptor
, the
D2 receptor
,
[17]
the
P2 receptor
,
[18]
[19]
and
ryanodine receptors
.
[20]
--------------
Ref: Slides from Naviaux's CDC call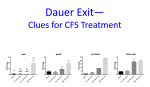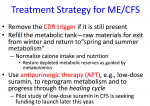 Last edited: