I will get my first dose tomorrow. Bit nervous because of the possible side effects.
I or
@MichaelK
will keep you up to date about what's happening... if sth happens...
big mystery with Copaxone, this story of Rachel and no reaction from Ben on this topic... and there must be a reason why Whitney doesn't get it... maybe because they fear an allergic reaction and he could not stand that or: it's all a lie and it didn't work with the nanoneedle...
What do you think?
Your
Jonathan Frakes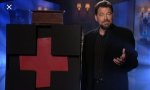 Last edited: