i ask for a friend which suffers also from cfs like problems but still can leave the house.
after suspecting multi vitamin deficiencies or maybe even a refeeding syndrome,
she used orthomol immune which is quite high dose for like 2 months without any problems. she also got the wired and hard sleep the first 2-3 days but it regulated itself. and wasnt that bad. she could sleep a few hours. she also said she took a bit magnesium the 2nd day.
now she tried a multivitamin which is much lower dose but instead of passive b vitamins it now has methyl/adenosylcobalamin and methylfolate. and p5p and r5p.
it also has 100mg magnesium so she didnt take any extra.
since the day she switched to the active complex she cannot sleep anymore. she is wired and tired and cannot fall asleep.
i told her immediately to stop, i hope she doesnt take it tomorrow.
i am wondering now, what might be the cause for this?
is it overmethylation? is it the active b6? b12? some kind of deficiency.
how can she fix this and tolerate the Bs better?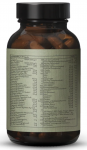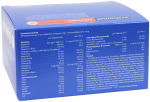 Last edited: