Background
:
Ribose is one of those supplements that have repeatedly been mentioned as helpful for ME patients. Some say it gives them slightly more energy than usual. Others say it works as a PEM-shielder, reducing the severity of PEM episodes. However, people who have problems regulating blood sugar report that Ribose, which is a type of sugar, can worsen problems with blood sugar.
Patient reports:
https://forums.phoenixrising.me/threads/d-ribose.52557/
(there are many more threads you can search for)
An old Phoenix Rising article about Ribose:
https://phoenixrising.me/treating-c...yalgia-the-cellular-energy-producers-d-ribose
An article about Ribose from patient journalist Adrienne Dellwo:
https://www.verywellhealth.com/d-ribose-for-fibromyalgia-715990
Mechanism of action:
So, why might Ribose supplementation increase someone's energy slightly? Why might it lessen PEM episodes? To answer these questions we can look into Ribose's mechanism of action.
In the literature, Ribose is generally known to boost resynthesis of ATP in depleted tissues. Since ATP is one of the main molecules that store energy in the cell, making more ATP available should provide the cell with more energy.
For example, a group at the University of Missouri used a rodent model of intense exercise to show that intense muscle contractions degrade ATP in the muscle. They then measured the rate at which the ATP was restored in the muscle. They found that when Ribose was added to the muscle right after the contractions, the rate that ATP was restored increased dramatically. [1]
From the paper: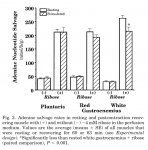 (note that this study only looked at ATP synthesis via the purine salvage pathways)
Another example of Ribose boosting the resynthesis of ATP comes from a group in Denmark. This group used a random double-blind crossover design to measure the rate at which humans can recover ATP after exercise. Eight subjects performed one week of intense intermittent exercise. Immediately after this, half received Ribose for three days and the other half received placebo for three days. At the end of the three days, those who received Ribose had recovered their muscle ATP, but those who received placebo had not. [2]
From the paper:
These two experiments looked at muscle, but what about resynthesis of ATP in the brain? It is much harder to study ATP resynthesis in the brain, but there are a few reports that might shed some light.
An neuroscientist at the University of Warwick, who was working with
post-mortem
brain tissue, remarked that ATP levels were lower in dead brain tissue than they were in live tissue, but reported that the ATP levels in dead brain tissue could be restored to live levels of ATP with the addition of Ribose and adenine. They then proceeded to see if this could be applied to a model of brain injury. They used a rodent model of stroke and found that subjects who received Ribose and adenine directly after the stroke had the size of their brain lesions reduced by 38% over seven days, compared to subjects who just received saline after the stroke and saw their brain lesions reduced by only 18% over seven days. (Investigators were blinded as to which subjects received Ribose and which subjects received saline, but the study of 8 subjects was underpowered and could not therefore achieve statistical significance.) [3]
From the study: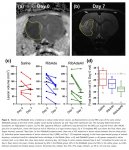 Clinical application
:
Now, what about clinical application of Ribose to patients with ME/CFS? The only clinical evidence comes from a 2006 open-label uncontrolled pilot study with 41 patients suffering from CFS and/or Fibromyalgia. This study provided patients with 5 grams of Ribose three times throughout the day, over 18 days. Patients filled out questionnaires covering energy, sleep, mental clarity, pain intensity, and well-being. The study found that Ribose was well-tolerated and resulted in significant improvement in approximately 66% of patients. [4]
So, what do
you
think?
References
:
[1]
https://pubmed.ncbi.nlm.nih.gov/11568162/
[2]
https://pubmed.ncbi.nlm.nih.gov/14660478/
[3]
https://pubmed.ncbi.nlm.nih.gov/28836168/
[4]
https://pubmed.ncbi.nlm.nih.gov/17109576/
Last edited: