Messages

1,105
Likes

1,219
I am posting some thoughts here because i did not want to derail the original thread :
https://forums.phoenixrising.me/ind...eatment-by-victoria-bohne-in-norwegian.44871/
cc :
@Frenchguy
@Janet Dafoe (Rose49)
@Hip
@perrier
@JES
@pattismith
Regarding the patent itself : I do not understand how one is able to practically patent a mixture of compounds that can be easily found by anyone. In order to patent something you must explicitly state the ingredients and the exact composition that comprises the solution. If you do this with easy-to find ingredients then anyone can just follow the instructions and prepare the solution for themselves.
Moving on now to the ingredients comprising the patent : I saw Spinach being mentioned and also ALA, Thiamine, Biotin, Niacin.
My understanding is that the inventors are using Oxalates to inhibit Lactate Dehydrogenase :
As discussed, Liver Disease can be a potential reason for increased lactate levels :
https://www.semanticscholar.org/pap...nson/b9ab0b17a45c1f2e1b65b0c8417392a6045a28b6
The use of Spinach deserves a closer look : Spinach is not only loaded with Oxalates, but is also rich in Vitamin K (100 g = 460% RDA) and a substance called Dolichol.
Here is a snapshot from a user called "Trynottoworry" who first speaks about the Unfolded Protein Response, N-Linked Glycosylation back in 2011 and talks about "The Spinach" Diet. Source is from a forum called propeciahelp.com, a site for people who took Finasteride and ended up with "Post-Finasteride Syndrome" a syndrome with several overlaping symptoms as with ME/CFS :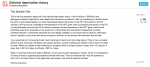 Note also the mention of a gene called GPT :
Dolichol
.
Interestingly, a soilution called Ropren (which i tried) uses a patented solution to treat Liver Disease and Chronic Hepatitis ;
http://www.solagran.com/ropren.html
I have previously expressed my concerns for Niacin for people with Liver Disease. Vitamin K metabolism has been discussed (see discussion
here
) as an important component on the treatment of ME/CFS (hypothesis) and has been communicated to both Professor Ron Davis and Dr Phair.
Last edited: