Messages

1,046
Likes

2,251
Location
Researchers at Kings College, London believe they've determined the pathohysiological basis of pain in FM.
In an innovative and rigorous experiment described by Dr. David Andersson at the IIME Conference May 31 2019 human IgG from healthy controls and FM patients was transferred into mice-- provoking pain in the animals that received FM patient, but not healthy control, IgG.
It was further determined IgG antibodies sensitize "peripheral" nociceptors and when antibodies are removed pain subsides. A diagnostic test and specific FM treatments that deplete antibodies, for example, could follow.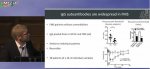 Andersson would like to repeat the study using ME/CFS patient IgG as ME/CFS and FM have similar symptoms. This caught the attention of Dr. Fluge [ME Rituxan trial] also presenting at IIMEC14.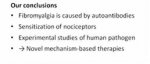 Video of Dr. Andersson's entire presentation is here:
www.investinme.org/IIMEC14.shtml