Here's what this video contains: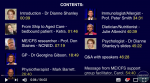 I watched Don Staines at the 7 minute mark. He's from the Griffith University team that does the research on calcium channels etc.
They have a clear theory that ion channel deficiency is the key, including in the brain and spinal cord.
I find it plausible - and it has strong explanatory power. It's clear he is on a quite different track to other researchers. But I think that could be a good thing. It's good to dig in multiple places and there could be connections. It's not impossible these ion channel defects could play a part in an immune response, or in prolonging an immune response. Certainly calcium flux is a big part of purinergic signalling, which is Naviaux's theory.
--
Around the 23 minute mark that GP explains how to do a standing test anyone could do at home (excluding Blood pressure measurements) to assess for Orthostatic Intolerance.
--
The physio is an expert in the kind of cardio pulmonary exercise testing they use in research. Seems very good.
--
The immunologist: talks about mast cells, irritants, etc. For mine, not a great speech.
--
Dietitian : did not watch.
--
Q and A. moderately interesting. Staines describes ME/CFS as unique and out on its own rather than being part of a family of autoimmune diseases. I'm a maybe on that. Some similarities to autoimmune diseases are apparent to me.