Okay, so as I've previously said in another post I lost a great deal of weight from this illness. Little bubbles from my stools arise to the surface of my toilet, and I'm not sure what this means. Also, the texture of my stool is unusual. An image is worth a thousand words! I see this as something we are all familiar with and is a natural process in life (digestion and excretion of waste) And I am unable to see a doctor at this exact moment, otherwise I really would.
How does this compare with your stools? I'm not sure if this is diarrhea but prior to this illness, my stools were cylindrical in shape. Also, somebody mentioned taking digestive enzymes but there are so many out there i'm not sure which to take. I know this may gross out some (hence the warning) but since we are all mature and this is a very real and frustrating symptom, I was hoping others have had similar experiences.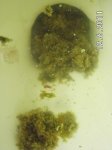 (Stool sample, click img to enlarge)
that fuzzy stuff at the top is not the bubbles i am referring to. After I use the restroom, I see little air bubbles that arise to the top and they burst as they hit the surface.