Interesting thread for me,
@Mary
. Thank's for posting.
I decided to start cautiously supplementing the same Swanson's monosodium phosphate powder as yourself (with my morning multi-mineral, supplement concoction and porridge). Starting on 200mg daily (of the recommended 1g of monosodium phosphate that provides 250mg of phosphorus - 20% the RDA).
I looked into phosphorus deficiency (and searched up this thread) following NHS tests investigating my osteoporosis (T-scores: spine -3.1, hip -2.6). I'm 37, male, with slightly *above* normal serum Vit-D and testosterone, plus good calcium. The rheumatologist ordered PTH, to look for hyper-parathyroid hormone levels that might cause phospaturia, which returned normal, too. But the 24h urine sample showed well *below* normal range phosphorus excretion (rather than excess). Normal calcium excretion.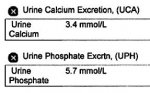 No reference ranges on results, and GP had no clue. So technically I have to wait for a (hopefully) upcoming repeat appointment to interpret this for sure, but the ranges I searched up for this type of collection were:
15 – 50 mmol/24hr for phosphate (and 2.5 – 7.5 mmol/24 hours for calcium).
So I've been figuring that this *must* mean my intake is inadequate. (Right?) And has been deficient for at least the last 6 years that I've plummeted in bone mass. (I figure I've probably lost well over 1kg of skeleton!
)
Context
: 7 years back (around my 30th birthday - whoop), I suddenly got IBS, which was key to quickly figuring out my dietary intolerances. Since then I've been excluding diary, egg, yeast, (wheat why not) and high histamine foods. This change gave me, by far, the biggest improvement I've ever had in my energy and function, plus prevented most of my (post breakfast) energy crashes. Letting me jump into more research and testing, etc. But sadly the improvements dropped down over ~6 months or so...
I figured this might well be due to something I was excluding. Adding iodine, a couple years later, helped a bit. But initially I assumed it was the reduction in (easily digestible) protein - protein powder gave me a boost for a day or two, but then made me worst. Seemed like a histamine issue (all protein sources are potentially very problematic with this). Similar response with home long-fermented live yogurt (and plain milk) - an almost simultaneous boost and intolerance type crash, over the next day or two. Of course, I'm now wondering if milk's highly available phosphorus content might have been part of the positive effect...
I'd taken a lot of care over dietary changes, consulting my GP, two NHS dietitians and a private nutritionist. But I don't think anyone highlighted phosphorus as a potential issue (only calcium). Indeed, my daily diet over the time since (of meat, veg and a few safer grains) looks to have plenty of phosporus, on paper - 140% or so (as calculated on
ChronOmeter
):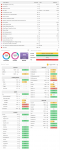 I only added a calcium citrate supplement (13% RDA) in the last few months, after the leatest, worrying DEXA bone scan. Figuring it must be that, having been fairly blazé about the NHS advice of meeting the RDA. (I initially had more leafy greens, by mild hypothyroid symptoms later meant having to cut goitrogens.) Some of my other supplements are not included in there, but should have the relevant ones.
But a bit of researched has revealed that I probably won't have been able to absorb/use about half of that:
[1]
Most of the phosphorus in plant seeds (beans, peas, cereals, and nuts) is in the form of
phytates
, which humans don't have the (phytases) enzymes to release [
ref1
]. So we may get only half of the stated amounts from those foods [
ref2
].
Of course, phytates are also considered an anti-nutrient, that chelate Calcium, Iron, and Zinc, preventing absorption [
ref3
]. But unfortunately I don't have many other viable food options to ditch the breakfast oats.
[2] Calcium supplements
also substantially reduce the amount of phosphorus/phosphate that can be absorbed from a meal. From 80% down to ~30%, when taken with a full RDA of calcium [
ref
]: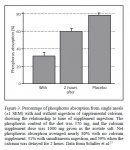 I'd been taking a 1/3 of RDA calcium tablet at the end of my main meal, so perhaps halving (?) the effective phosphorus content from the meat, etc (my only substantial non-phytate source).
So overall I might have been on ~70% RDA effectively. But who knows exactly what's been going on.
Now, I did get a *reduction* in my slight back discomfort after adding a little more (easily absorbed) calcium. But then I also tripled my K2 supp, tried to sleep even more carefully and added the odd flexation stretch. So I'm unsure if that has any meaning.
Anyway, I'd worked up to about ~700mg of monosodium phosphate (~14% phosphorus RDA), over 2 weeks, without experiencing any energy boost (sadly), or other notable effects.
However, since a week ago I've backed off that (to ~400mg) due to a few negative symptoms that now look like a cold (with a little bit of a temperate tonight). It's notable because I don't think I've had any (infectious) illness in the last 7 years to a decade or more; I'm in the "sick but never sick" category with relatively few symptoms, thankfully. I had a *very* gradual onset, since teenage years, preceded by ADHD, (dyslexia) and delayed sleep phase. I'm mostly just cognitively and socially crippled (non-24-hour sleep), with just enough energy to grocery shop and cook for myself.
I had a day or two of depression, then slightly reduced thinking speed and a bit of a headache, then stuffiness, then a slight sniffle, now full blown drippy nose, and tonight a temperature spike up to 38.3 Celsius (I normally run on the colder side of normal).
Slightly unnerving, with global COVID-19 news (there's no way it's that, where I am in the UK). But wondering if I should take this as a positive development...? I initially thought it might be a detoxification reaction... Which I've not seemed to have in the past, despite GI protocols and trying Freddd's methylation protocol (to an extent).
Maybe there's some kind of (dormant) viral activation, though...? I've no infectious event history. Tiny possible indicator - 4 or 5 tiny little pimples popped up in completely different places, possibly at some sites of past little (HPV) warts... Almost certainly reading too much into that. But maybe immune system is powering up with the (relatively tiny) amount of available phosphate...?
Just to throw in the kitchen sink (because I'm like that), my serum amino acid test (from 6 years back) showed, amongst other derangements, a weird hiccup in my phospho-(serine/ethanolamine/) pathyway, that I wondered if it implied that my phosphatidyl-choline symthesis was blocked/slowed. Now wondering if phosphate deficiency might impact here...?: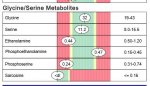 My essential protein aminos were low accross the board, too (as was commonly seen in the ME/CFS metabolomics studies). Particularly lysine, which I've heard is important for bone formation (but the Rhuematologist knows nothing of that).
Thank you if anyone manages to read this and has any thoughts on any of it.
Last edited: