I've been dealing with CFS for 5 years and haven't had any clarity or improvement in the disease. In fact, I keep getting worse and have become unable to work. One of my biggest challenges has been getting doctors to work with me and check for things that aren't common. To work around that, I ordered $1,500 of labs from Walk in Labs (Labcorp).
I got several positive (bad) results back. That's significant because, in EVERY other lab test, examination, or imagery that's been done to me, my results were normal. That would be the time when the Dr. would throw their hands up and say, "You shouldn't be sick. Good luck." This time, I'm seeing problems with my liver, inflammation, possibly EBV, and some other stuff.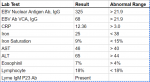 The other (active and IgM) EBV antibody results were normal.
The other Lyme antibody results were negative (I'm assuming I don't have Lyme even though I've been bitten by lots of ticks).
Putting my results together, I'm seeing that... I'm sick!
Beyond that, I don't know how to make sense of my lab results.
Has anyone ever had similar results, and would you share you experiences?
I'm guessing I'm anemic from being sick and have reactivated EBV based on Montoya's criteria.