Hi guys,
A very exciting event coming up: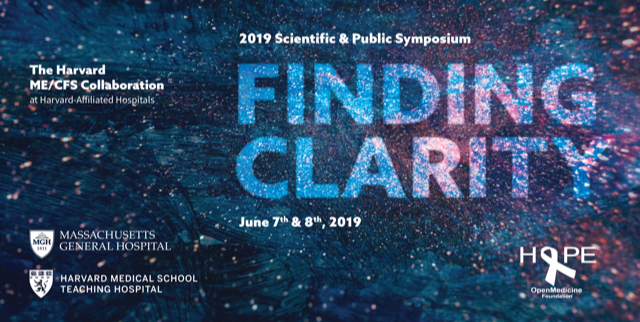 Finding Clarity:
The Inaugural Harvard ME/CFS Collaboration
Symposium
Open Medicine Foundation (OMF) is pleased to sponsor the inaugural Harvard ME/CFS Collaboration 2019 Scientific and Public Symposium: Finding Clarity.
The Harvard ME/CFS Collaboration 2019 Public Symposium will follow a one-day scientific meeting with more than 30 researchers. Ronald G. Tompkins, MD, ScD, and Wenzhong Xiao, PhD, co-directors of the
OMF-funded Harvard ME/CFS Collaboration at Harvard Affiliated Hospitals
have assembled a stellar team of researchers for both the scientific meeting and the public day. Ronald W. Davis, PhD, OMF Scientific Advisory Board Director will be in attendance as well. Please join us and meet our team in person.
Public Symposium
Saturday, June 8, 2019
1:00 PM - 4:00 PM
AMC Assembly Row 12
395 Artisan Way
Somerville, Massachusetts
(Parking is available at the Artisan West Garage.)
There is no charge for this event.
Space is limited - Kindly RSVP by May 31.

Reserve your space today.
This event will be recorded and made available.

Support open and collaborative research and meetings.
www.omf.ngo
B​