The 1980s Flash Gordon movie with its famous soundtrack by Queen came up tonight on the Starship Modeler forum via news about what I guess counts as a documentary about it in general and the actor Sam Jones in particular.
It is one of very, very, few movies I have gone to see.
In the 1980s we didn't know it was autism that was giving me sensory overload at such things and this movie with its comic book comes to life on the big screen style was overload .
But it was
SO COOL!
Went to see it with Dad and my brother and they too totally enjoyed it's camp-fest of fun and adventure.
Until a few minutes ago this cassette of Queen's soundtrack is the only one I had.
I don't have a tape player any more except for the one in my 23 year old van and I'm not willing to put this in there.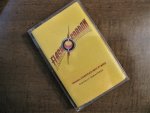 So, since November's SSD is here, just ordered a CD from Amazon.
I was hoping there would be a sequel so they could use a dialog I had imagined and imagined I would send to them;
"We found where Gordon is hiding."
"Then flush him out."
"But sir ..."
"I Said Flush Flash!!!"
Also threw in a 650+ page railroad book I've been wanting, where a hardcover is being sold by Friends of the San Francisco Library.
It is by a well known and highly respected historian and will have reproduced photos and drawings immediately relevant to my model building.
And Friends of Libraries are worth helping out.
Have acquired some fun and interesting books from sales by our own local Friends of the Library.
I have his book on early US steam locomotives & his 2 volume book on the American Railroad Passenger Car.
Published by The Johns Hopkins University Press (October 1, 1993)
That being an establishment which another arm of shows up in CFS/ME things.
Oh, and, "Shipping Weight:
8.2 pounds
"
Yep, that's my kind of book!
So, November 1 isn't over yet and I've spent all the extra money I can even halfway justify this month!
But, a benefit of the internet age is that the music was available with purchase of the CD to download and play on the computer!
Have it going right now!
I am a very happy camper tonight with the good things which have happened today.
And am looking forward to our Creative Writers Group weekly meeting in the morning.
Just gotta remember to sleep sometime between now and then.
But, no worries, it's a pretty good bet the CFS/ME will ensure that.